Basil, Walnut, Sweet Onion Pesto
Description
The best thing about onions is that they can be the star of the show without anyone knowing it. We are aware that there are a few people who don't prefer the texture of onions, but this sweet onion pesto is proof that you don't have miss out on the onion's tasty flavor! Sautéing onions makes them rich, sweet, and soft allowing them to blend into this savory treat.
The onions hiding inside this sweet onion pesto give a boost to any meal or snack. Use it to top crackers, garnish pizzas, fill sandwiches, or as a spread for your favorite avocado toast.
Makes about 1 cup
Ingredients
4 tablespoons extra virgin olive oil
1 medium white onion, chopped (1 cup)
1 ½ cups packed fresh basil leaves
¼ cup chopped raw walnuts
5 tablespoons shredded parmesan cheese
1 tablespoon fresh lemon juice
½ teaspoon fine sea salt, or to taste
Directions
Heat 1 tablespoon of the olive oil in a medium skillet over medium-high. Add the onion and cook for 5 to 7 minutes, until lightly browned and softened. Set aside to cool.
Add the basil and the cooled onions to a small food processor. Pulse 4 to 5 times until finely chopped. Add the walnuts, cheese, lemon juice, remaining 3 tablespoons of olive oil, and salt. Puree 30 to 45 seconds, until all ingredients are combined and the walnuts and cheese make the pesto almost creamy in appearance. Add more salt if desired. Serve right away or refrigerate for up to 2 days.
Note: If you enjoy the zesty bite of raw sweet onions, you can make this pesto without sautéing the onions first. Simply add all the ingredients to the food processor.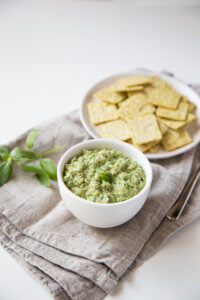 Special notes
Recipe and photos for the National Onion Association by Lori Rice.