Pickled Red Onion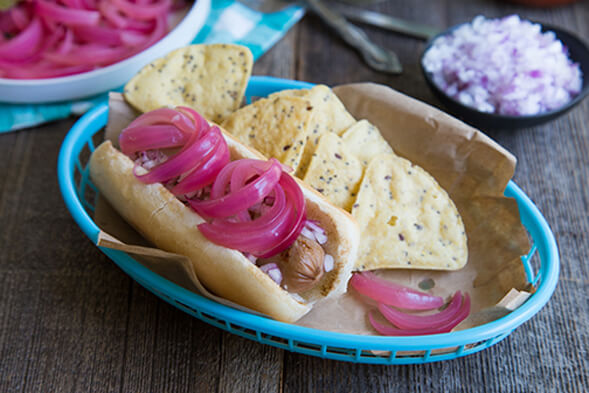 Description
Crisp and tangy, pickled red onions make the best topping for hot dogs, burgers, brats and tacos. This recipe takes the classic condiment a step further by adding spices that give the onions a punch of unique flavor.
Ingredients
Yield: 6 to 8 servings
Preparation time: 20 minutes
Cooking time: 10 minutes
2 cups red wine vinegar*
2 cups water
½ cup sugar
½ teaspoon allspice berries
½ teaspoon whole black peppercorns
½ teaspoon whole cloves
2 bay leaves
2 cinnamon sticks
¼ teaspoon salt
2 medium red onions, sliced
Directions
In a large saucepan, combine the vinegar, water, sugar, allspice berries, peppercorns, cloves, bay leaves, cinnamon sticks and salt. Heat over medium-high and simmer 5 minutes to infuse the vinegar with the spices.
Toss the onions in the hot pickling liquid. Cook 1 more minute.
Pour the onions and liquid into a heat-safe bowl. If necessary, weight the onions with a heavy pan or plate to keep them submerged in the liquid. Let cool completely. Serve chilled or a room temperature.
*For the most vibrant flavor, use Cabernet Sauvignon vinegar.
Special notes
Images by Lori Rice for the National Onion Association.