Sweet Onion Pasta Salad with Creamy Herb Dressing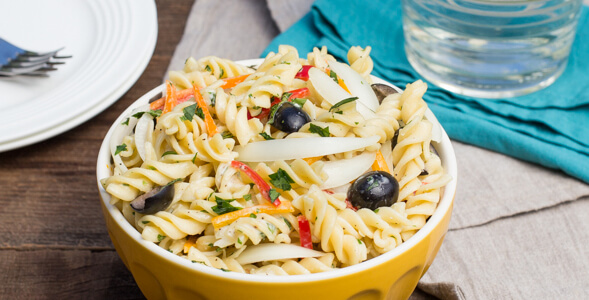 Ingredients
16 ounces dry rotini pasta
1 medium yellow onion, cut into thin wedges or slivers
3/4 cup black olives, drained and halved
3/4 cup diced bell pepper (any colors)
Dressing
1/3 cup mayonnaise
3 tablespoons low-fat buttermilk
1/4 cup parsley leaves, finely chopped
5 to 6 basil leaves, finely chopped
1/2 teaspoon garlic powder
1/2 teaspoon fine sea salt, or to taste
1/4 teaspoon ground black pepper
Directions
Cook the pasta according to package directions. Drain and rinse with cold water.
Reserve about 5 slivers of onion. Add the remaining onion to a large bowl. Stir in the olives and bell pepper. Add the pasta.
For the dressing: Finely chop the reserved onion and add it to the bowl of a small food processor or a blender. Add mayonnaise and buttermilk. Pulse in 5-to-10-second intervals, 4 or 5 times until the onion is pureed.
Transfer the dressing into a medium bowl and stir in parsley, basil, garlic powder, sea salt, and pepper. Pour the dressing over the pasta salad; stir gently to coat all ingredients. Add more salt to taste, if desired.
Chill for at least 30 minutes before serving.
Makes: 6 to 8 servings
Special notes
Recipe and image provided by the National Onion Association.