Sweet Onion Quiche Lorraine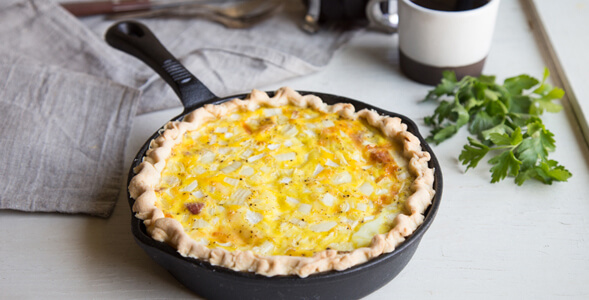 Description
Quiche Lorraine is surprisingly simple, consisting of a buttery crust, bacon, and a custard-like filling. Everyone has their own twist for this quiche. I think the classic is made even better with the addition of sweet onions!
Ingredients
Makes: 6 servings
Prep Time: 30 minutes
Baking time: 60 minutes
Crust
1 1/3 cups all-purpose flour
½ teaspoon fine sea salt
1/3 cup cold unsalted butter, cubed
4 tablespoons ice cold water
Filling
4 slices thick-cut bacon, chopped
4 large eggs
1 teaspoon chopped fresh parsley
¾ cup half-and-half
½ teaspoon fine sea salt
¼ teaspoon ground black pepper
¼ cup shredded Swiss cheese
1 small yellow sweet onion, chopped
Directions
To make the crust, place the flour in the bowl of a food processor. Add the salt and the butter. Pulse in 5 to 10 second intervals until the butter is evenly distributed in small pieces. Add the water, 1 tablespoon at a time, with the processor on low, until the dough begins to come together in a ball. It will hold together when pressed between your fingers.
Form the dough into a ball and flatten in a disk. Wrap in plastic wrap and refrigerate for 20 minutes.
While the dough rests, make the filling. Cook the bacon over medium high-heat in a small skillet, until it reaches your desired level of crispness, 5 to 8 minutes. Set aside to cool.
Whisk together the eggs, half-and-half, parsley, salt, and pepper in a large bowl.
Preheat the oven to 400 degrees F.
Remove the dough from the refrigerator. Roll it out on a floured surface into an 11-to-12-inch circle. Transfer the dough to an 8-inch cast iron skillet. Press the dough gently into the skillet. Trim and crimp the edges. Cover in aluminum foil, gently pressing it in the pan to cover the crust and the edges. Bake for 7 minutes.
Remove the skillet from the oven and discard the foil. Reduce the oven heat to 350 degrees F. Place the skillet on a baking sheet.
Sprinkle the bacon in the bottom of the crust and top with the cheese. Next, add the onion and spread evenly over the cheese and bacon. Pour in the egg filling.
Place the baking sheet with the quiche in the oven. Bake for 50 to 55 minutes, until the center is firm and the top edges are lightly browned. Let cool for 10 minutes before slicing to serve.
You can always change up the quiche by adding various veggies or meat.
Special notes
Recipe for the National Onion Association by Lori Rice.