Lamb Ragu with Pappardelle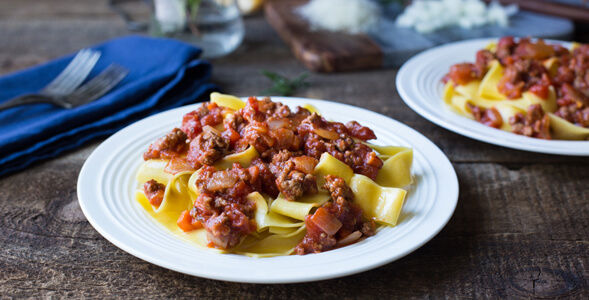 Description
Whether you are craving comfort food, or need a special dinner to share with those you love, this lamb ragu checks all the boxes. Onions are simmered with diced tomatoes, ground lamb, and herbs to create a rich and filling sauce that can be served over your favorite pasta.
Ingredients
Prep Time: 15 minutes
Cooking Time: 45 minutes
2 tablespoons extra virgin olive oil
1 large yellow onion, chopped
1 large carrot, peeled and diced
2 garlic cloves, minced
1 pound ground lamb
One 28-ounce can petite diced tomatoes
One 6-ounce can tomato paste
1/2 cup water
1 teaspoon minced fresh basil
1 teaspoon fine ground sea salt
1/2 teaspoon minced fresh mint
1/4 teaspoon ground black pepper
2 bay leaves
One 3-inch sprig rosemary
16 ounces pappardelle (or other pasta), cooked according to package directions
Grated Parmesan for garnish
Makes: 6 servings
Directions
Heat the olive oil in a heavy pot, such as a Dutch oven, over medium-high. Add the onion and cook until it begins to glisten and soften a little, 3 minutes. Add the carrot and cook until the vegetables begin to brown, 5 minutes. Stir in the garlic and cook 1 more minute.
Add the lamb and stir to break it up. Cook until browned and no longer pink, 5 to 6 minutes.
Pour in the diced tomatoes with their juices and then stir in the tomato paste. Add the water. Stir in the basil, salt, mint, and black pepper.
Reduce the heat to medium-low. Add the bay leaves and the rosemary sprig to the pot. Cover with a lid and simmer for 30 minutes. Check to make sure it is maintaining a low simmer and adjust the heat as needed. Stir at least once while it simmers. Discard the bay leaves and rosemary sprig.
Divide the cooked pasta into 6 servings. Top the pasta with an equal amount of ragu. Sprinkle with Parmesan and serve.
Special notes
Recipe and photography by Lori Rice, for the National Onion Association.