Baby Spinach Salad with Roasted Red Onion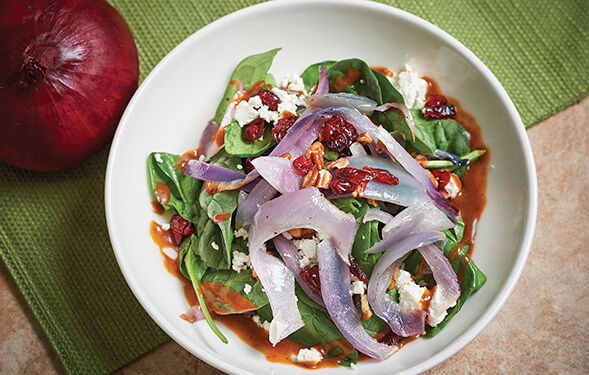 This light salad with a mix of sweet and savory makes for a nice summer evening meal.
Ingredients
5 ounces red onion, roasted
1 tsp oil
dash black pepper, ground
dash salt
1 ounce pecan pieces, toasted
Tomato Balsamic Dressing
2 tablespoons, sugar, granulated
1/4 cup plus 1 tablespoon, Balsamic vinegar
2 tablespoons, 1-2 1/2 teaspoons, catsup
1/4 ounce garlic, minced
1/4 teaspoon black pepper, ground
1/4 ounce parsley, chopped
1/2 cup, 2 tablespoons oil
5 ounces baby spinach leaves
2 1/2 ounces dried cranberries
2 1/2 ounces goat cheese crumbles
Directions
To roast the onions, cut into thin wedges. Toss with oil and season with salt and pepper. Roast at 350 degrees until onions are soft and slightly brown on the edges. Toast pecans.
For Tomato Balsamic Dressing: Dissolve sugar and vinegar in a blender; add all the remaining ingredients except oil. Blend until fully incorporated. Slowly add oil until combined. Pour into a container and chill until ready to use.
To assemble salad, place one-ounce of spinach onto each plate, top with one-ounce roasted onions, 1/2-ounce cranberries, 1/4-ounce toasted pecans, and 1/2-ounce goat cheese. Drizzle with two-ounces of dressing and serve.
Special notes
Recipe and image provided by National Onion Association/onions-usa.org, courtesy of Penn State University.