Curried Onion Fritters with Mint Raita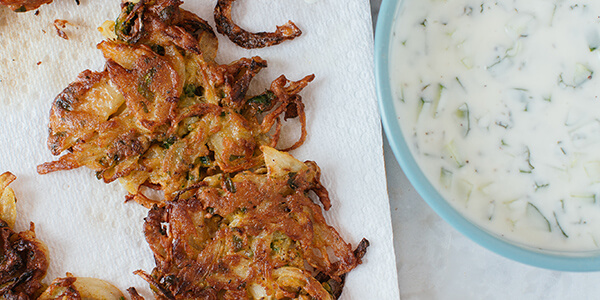 Description
Similar to the spicy Indian snack onion bhaji, these fritters should be tongue-numbingly hot, so that you crave the cool relief of the raita. Make them to slake your hunger while a curry bubbles away on the back of the stove, and eat them as they are fried, preferably with a cold beer in hand.
— Kate & Guy, Onions Etcetera The Essential Allium Cookbook
Ingredients
For the raita
1 cup plain whole-milk yogurt
2 small cucumbers, such as Persian, finely chopped
1 tablespoon finely chopped mint
Kosher salt and freshly ground black pepper
For the fritters
3 medium yellow onions, thinly sliced
2 serrano chiles, thinly sliced
3 tablespoons chopped cilantro
1 tablespoon curry powder
1/4 to 1/2 teaspoon cayenne
Kosher salt and freshly ground black pepper
1/2 cup chickpea flour
1 large egg, lightly beaten
Peanut or vegetable oil, for frying
Directions
To make the raita, combine the yogurt, cucumbers and mint in a small bowl. Season with 1/4 teaspoon salt and several grinds of black pepper. Refrigerate until ready to serve.
To make the fritters, combine the onions, chiles and cilantro in a large bowl. Add the curry powder, cayenne, 1 teaspoon salt and several grinds of black pepper and toss everything together until well combined. Sprinkle the chickpea flour over the onion mixture, add the egg and mix together gently so everything is lightly coated.
Heat about 1/2-inch oil in a heavy skillet over moderately high heat. While the oil heats up, lay some paper towels on a cooling rack or a platter. When the oil is hot and shimmering, use two forks to scoop up about 2 tablespoons of the onion mixture. Drop the mixture into the oil, pressing down lightly so it spreads out a bit. Some of the onions will straggle out, which is totally fine—these bits will become extra crunchy. Fry the fritters until deep golden brown on the underside, 2 to 3 minutes, then flip and continue to fry about 2 minutes more. Transfer the fritters to the paper towels to drain, and scoop out any floating bits from the oil before frying another batch. Eat the fritters while they are hot, dabbed with a spoonful of raita.
Special notes
Makes about 16 fritters.
Excerpted from Onions Etcetera by Kate Winslow and Guy Ambrosino. Copyright © 2017 Burgess Lea Press. Photography copyright © 2017 Guy Ambrosino. Published by Burgess Lea Press, an imprint of The Quarto Group. Reproduced by arrangement with the Publisher. All rights reserved.