Spicy Sheet Pan Roasted Jambalaya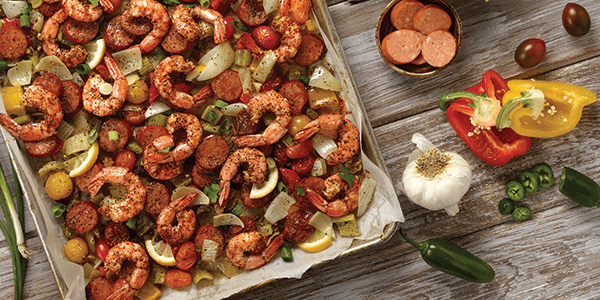 Description
Full of fresh and zesty flavors, this easy sheet pan dinner is sure to be a hit with your family.
Ingredients
1 large yellow onion, diced
1/2 large green bell pepper, diced
1/2 large yellow bell pepper, diced
1/2 large red bell pepper, diced
3 stalks celery, sliced or diced
2 garlic cloves, minced
1 to 2 jalapeños, seeded and diced
1 pint cherry tomatoes
3 tablespoons olive oil, divided
1/2 teaspoon salt
1/2 teaspoon black pepper
1 tablespoon Cajun seasoning blend
1 link (13.5 ounces) Andouille sausage, sliced
1 pound large shrimp, peeled and deveined
Linguine noodles, cooked according to package directions
1-2 lemons, sliced in very thin wedges
2 green onions, sliced
Fresh chopped parsley
Directions
Preheat oven to 400 degrees Fahrenheit. Line a large 13×18-inch sheet pan with parchment paper. In a large bowl, combine onion, bell peppers, celery, garlic, jalapeños, tomatoes, with two tablespoons olive oil, salt, and pepper until evenly combined. Spread out evenly on the pan into a single layer. Add slices of Andouille sausage. Roast in the oven for 15 to 20 minutes or until vegetables are tender and start to get a golden brown char on their edges.
While the vegetable and sausage mixture is in the oven, toss shrimp with the Cajun seasoning and prepare the linguine noodles. When ready, remove the baking sheet from the oven. Place shrimp on top of the vegetable and sausage mixture in a single layer. Top with half the lemon wedges. Return to the oven and cook about 5 to 8 minutes or until the shrimp are cooked through and an opaque pink.
Serve over linguine garnished with green onions and parsley with remaining fresh lemon wedges on the side. Makes 4 to 6 servings.
Special notes
Recipe and image provided by the National Onion Association/www.onions-usa.org