Curried Caramelized Onion Apple Soup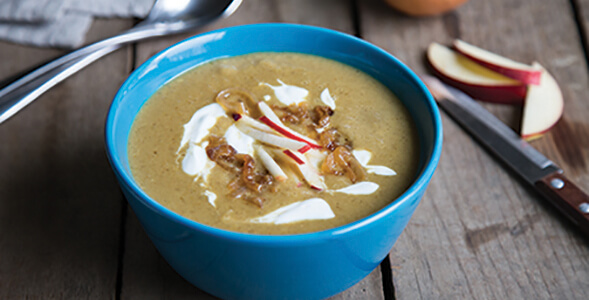 Ingredients
2 tablespoons unsalted butter
1 tablespoon olive oil
2 pounds yellow onions, thinly sliced
3 red skinned apples, peeled, cored and chopped, such as Royal Gala
2 cloves garlic, crushed
1 tablespoon minced ginger
1 tablespoon curry powder
1/2 cup apple cider
3-1/2 cups vegetable broth
1 cup chopped potato
1 cup coconut milk
3/4 teaspoon salt
Yogurt (optional)
Garnish (optional, see note)
Directions
In a large heavy bottom saucepan, melt butter with oil over medium heat. Add onions and cook until caramelized, about 30 to 35 minutes. Add apples, garlic, ginger and curry powder; cook for 2 to 3 minutes.
Add apple cider to deglaze the pan; increase heat to high until reduced by half. Add broth and potato, bring to a boil then reduce heat. Cover and simmer for 20 minutes. Stir in coconut milk and salt; simmer for 5 minutes.
Purée soup with an immersion blender until it's smooth. Alternatively, a blender can be used to purée the soup in batches. Return soup to the pot and simmer until warmed through before serving.
Note: Reserve some caramelized onion and apple matchsticks for Garnish. Ladle soup into bowls and top with a drizzle of yogurt, caramelized onion pieces and apple matchsticks. Makes 8 cups.
Prep Time: 15 minutes
Cook Time: 1 hour 5 minutes
Total Time: 1 hour 20 minutes
Special notes
Recipe and image provided by the National Onion Association. Images by Lori Rice and THP.