Asian Bitter Onions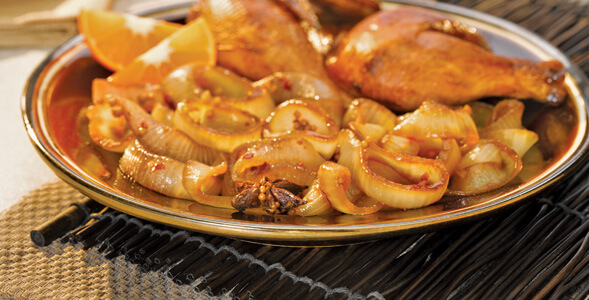 Description
Serve these onions as an accompaniment to grilled beef or game, roasted meats or poultry. It can also be an accompaniment for cooked grains or roasted vegetables.
Ingredients
Yield: 12 servings (1/2 cup each)
3 pounds sweet onions, thickly sliced
2 tablespoons grapeseed oil
2 tablespoons garlic, minced
1 ½ cups rice wine vinegar
½ cup soy sauce
1/3 cup honey or molasses
2 tablespoons bitters, orange
1 tablespoon mustard seeds
3 whole star anise
½ teaspoon red pepper flakes
Directions
In a large skillet, heat oil over medium-high heat; add onions and cook 4 to 5 minutes or until onions start to soften and take on color. Add garlic and continue to sauté 1 minute. Stir in vinegar, soy sauce, honey, bitters, mustard seeds, anise and pepper flakes and bring to a boil. Reduce heat and simmer 15 to 20 minutes, stirring occasionally. Remove from heat and let cool to room temperature. Strain out onions, reserving cooking liquids. Remove anise pods and discard.
Add strained cooking liquids back to pot and bring to a boil. Reduce liquids by half until thick and syrupy (about 1 cup). Remove from heat. In bowl, toss onions with reduced cooking liquids to coat. Serve warm or at room temperature. Or cover and refrigerate until ready to serve.
Special notes
Per serving: 129 calories, 2 g protein, 4.5 g fat, 20 g carbohydrates, 1.5 g fiber, 172 mg sodium.
Recipe and image provided by the National Onion Association.