Roasted Onions with Herb Butter Sauce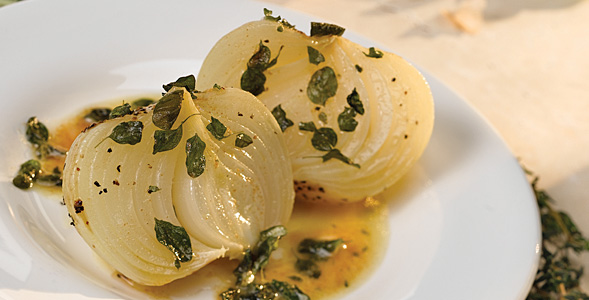 Description
Easy cold weather side dish, roasted onions can be seasoned, baked till tender and served in place of soup or salad, as a side dish, or as the centerpiece of a vegetarian main dish.
Ingredients
4 medium yellow onions, peeled, trimmed
1/4 cup packed fresh herbs (sage, thyme, oregano or marjoram)
1/4 cup butter
Directions
Place onions in a baking dish, season with salt and pepper. Cover and bake at 400 degrees F for one hour or until onions are tender.
While onions are roasting, prepare this simple herb butter sauce. Trim leaves from fresh herbs such as sage, thyme, oregano or marjoram. In a small skillet, melt butter over medium heat. Add the fresh herbs and stir until butter begins to brown and the herbs are crispy. Be careful not to burn butter or herbs!
When onions are soft, remove from oven and carefully cut in half from top to bottom.
Serve with herb butter sauce. Makes 8 servings
Special notes
Recipe and image provided by the National Onion Association
Per serving: About 150 cal, 1.3 g pro, 12 g carb, 12 g fat, 30 mg chol, 105 mg sod, 2 g fiber.