Chipotle Egg Sandwich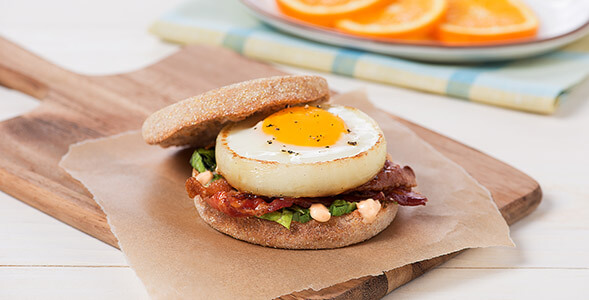 Description
A grab 'n go sandwich for breakfast with a little kick!
Ingredients
1 yellow onion
4 large eggs
Cooking spray
1/4 tsp each salt and pepper
8 slices reduced sodium bacon
1/4 cup reduced fat mayonnaise
1 tsp minced chipotle with 1 tsp adobo sauce
1/2 cup shredded lettuce
4 toasted whole wheat English muffins
Directions
Heat a large non-stick skillet over medium heat. Add the bacon in a single layer and cook turning frequently until crisp, about 8 minutes. Transfer to paper towel to drain.
Wipe skillet clean with paper towel and return to heat. Coat with cooking spray. Arrange onion rings in a single layer. Crack an egg into each onion ring. Cook, covered, for 4 to 6 minutes until whites are set and yolks are still runny.
Mix mayonnaise with chipotle and adobo sauce. Spread on bottom English muffin. Top with shredded lettuce, bacon, and egg cooked in an onion ring. Cap with remaining English muffin half.
Serves 4.
Prep Time: 10 minutes
Cook Time: 10 minutes
Special notes
Recipe and image provided by the National Onion Association