Bistro Potato Salad with Caramelized Onions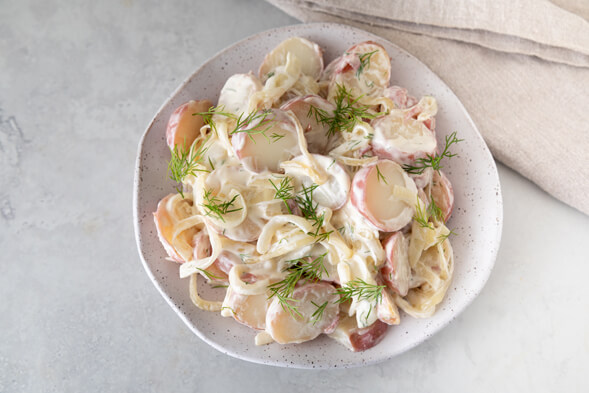 Ingredients
2 medium yellow onions, sliced
2 tablespoons olive oil
Salt and pepper
1-1/2 pounds small red potatoes
Boiling salted water
3/4 cup mayonnaise
1 tablespoon fresh chopped dill leaves (or 1 teaspoon dried dill weed)
1 tablespoon Dijon mustard
2 tablespoons lemon juice
2 tablespoons sugar
Directions
Saute onions in olive oil in large skillet over medium heat for 15 to 20 minutes until golden.
Season with salt and pepper to taste, cover and chill. Boil potatoes 20 to 35 minutes or until fork tender but not mushy. Drain and chill in covered container.
Combine mayonnaise with dill leaves, mustard, lemon juice and sugar. Slice chilled potatoes and brush a thin glaze of the dilled mayonnaise over tops. To arrange salad, spoon onions onto plate, spreading into 10 to 12-inch round. Make overlapping circles of glazed sliced potatoes over onions. Spoon some of the dilled mayonnaise into center, and pass remainder in a small bowl. If desired, garnish with fresh herbs or a few arugula leaves. Makes 6 servings.
Per serving: 277 cal, 3.9 g pro, 34.8 g carb, 5.2 g fiber, 14.5 g fat, 131 cal (46%) from fat, 7.6 g chol, 287 mg sod, 73.54 IU VitA, 9.58 mg VitC, 63.2 mg cal, 7.06 mg iron.