These sweet and tangy tarts will make a delicious addition to your holiday meals!
Serve them as a starter or use them to add a savory twist to dessert.
The holiday season is full of delicious desserts and this year we have a recipe that will help you add a special, unexpected touch. These Cranberry Onion Tarts are sweet enough to be served with cheeses and wine to end a meal, and savory enough to enjoy as a starter for a special dinner or snack for a holiday open house.
These tarts are filled with sweet caramelized onions, tangy cranberries, crunchy pecans, and an earthy sprinkle of fresh rosemary. They go especially well with a wedge of Brie or Gorgonzola cheese.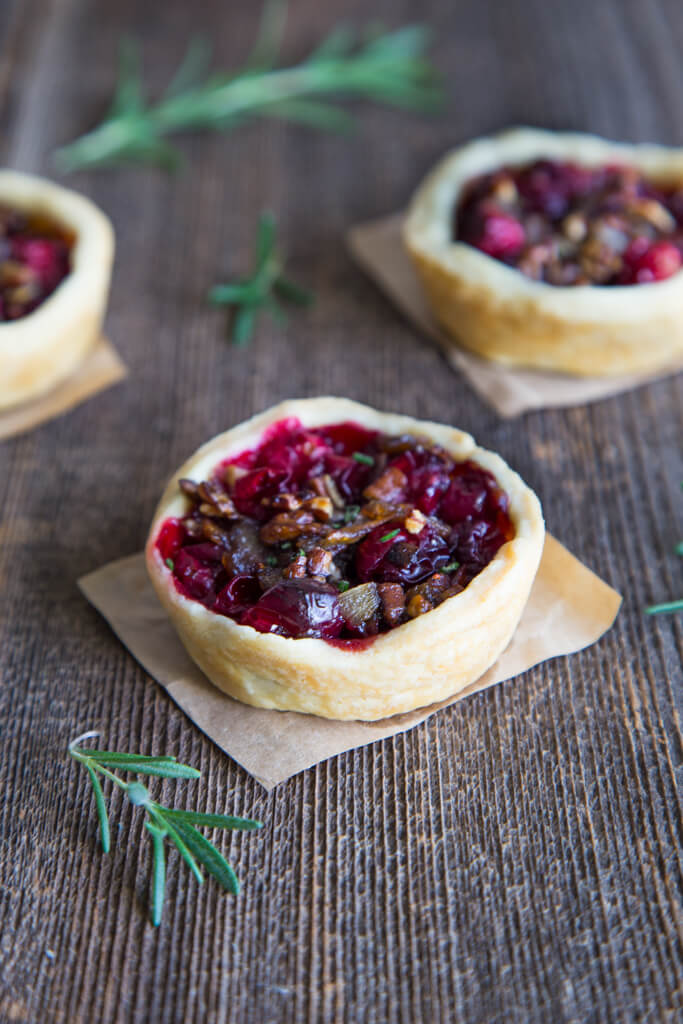 Cranberry Onion Tarts
Yield:  6 tarts
Preparation time:  20  minutes
Cooking time:  45 minutes
Ingredients
Crust
1 cup unbleached all-purpose flour
1/2 teaspoon sugar
1/4 teaspoon fine ground sea salt
1/2 cup cold unsalted butter, cubed
3 tablespoons ice cold water
2 tablespoons extra virgin olive oil
1 cup finely diced yellow onion
2 cups fresh cranberries
1/4 cup chopped pecans
3 tablespoons honey, or to taste*
1/4 teaspoon fine ground sea salt
1/8 teaspoon finely chopped fresh rosemary
Chopped rosemary for garnish, optional
Preparation
Place the flour, sugar, and salt in the bowl of a food processor. Add the cold butter. Pulse in 10 second intervals until all ingredients are combine and crumbled. Add the water, one tablespoon at a time, and process on low until the a dough ball forms in the bowl, about 20 seconds. Transfer the dough to a sheet of plastic wrap. Wrap and place in the refrigerator for 15 to 20 minutes.
Preheat the oven to 375 degrees F.
While the dough chills, make the filling by heating the oil in large skillet over medium-high. Add the onion, cook until it softens and begins to brown, about 10 minutes. Add the cranberries. Cook until they begin to burst and shrink, about 3 minutes.
Stir in the pecans and cook 1 minute. Remove the skillet from the heat and stir in the honey, salt, and rosemary.
Remove the dough from the refrigerator. Roll on a floured surface to 1/4 to 1/3-inch thickness. Cut the dough into 6, 3 1/2 to 4-inch circles. Place each circle of dough into the slot of a 6-cup jumbo muffin tin. Gently press and spread the dough so that it fits into the bottom of the muffin tin and the edges reach about 1/2 way up the side.
Fill each crust with an equal amount of the cranberries and onions. Bake for 28 to 30 minutes, until the crust is golden brown and the filling is bubbling. Let cool for 5 minutes and then use a fork or knife to carefully remove the tarts from the pan. Sprinkle with chopped fresh rosemary, if desired. Serve warm or at room temperature.
*Fresh cranberries are tart. Be sure to taste a bit of the filling before transferring it to the  crust. Add more honey, if desired.
Recipe and images by Lori Rice for the National Onion Association