A key ingredient for any salad is the flavorful and versatile onion. From raw to roasted, and marinated to caramelized, onions add a savory flavor to any side or main dish salad.
According to the National Onion Association, the domestic spring/summer fresh onion crop is now being harvested and will be available to local retailers throughout their season, March – August. They have thin, light-colored skins and are available in yellow, red and white.
Spring/summer fresh onions are known for their mild taste and are often referred to as sweet onions. With their delicate taste, fresh onions are an ideal choice for salads or lightly-cooked dishes.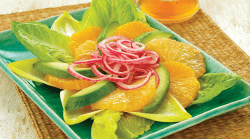 During the warm-weather months, salads are often the focal point of the meal. Chilled Salmon Salad with Orange Citrus Onions combines healthy vegetables like onions and dark leafy greens with salmon, providing vitamins, antioxidants and essential fatty acids to your diet.
For a spicy south-of-the-border salad, try theLaredo Salad with Cowboy Marinated Onions. It blends flavorful marinated onions with salad greens, tomatoes, avocados and olives and is topped off with a simple vinaigrette made with your favorite picante sauce.
To add some zest to your next neighborhood barbecue or family picnic, try Bistro Potato Salad with Caramelized Onions. This unique potato salad, inspired by a country French recipe, layers dilled potatoes on a bed of sweet tangy caramelized onions.
Caramelized onions can be prepared ahead of time and stored in the refrigerator for up to five days. In addition to being used in this potato salad, caramelized onions make an ideal topping for grilled meats, pizzas or poached fish.
Chopped or sliced fresh onions can be stored in a sealed container in the refrigerator for up to seven days. They are a crunchy and flavorful addition to salads, sandwiches and burgers. When chopping onions, keep in mind that one medium onion yields about 1 cup of chopped onion.
For more onion recipes visit www.onions-usa.org/recipes. About the National Onion Association
Founded in 1913, the National Onion Association (NOA) is the official organization to represent growers, shippers, brokers, and commercial representatives of the U.S. onion industry. NOA strives to preserve and improve the business environment of all participants in the industry, educate consumers about onion's many uses and health benefits. For more, visit www.onions-usa.org.