Gourmet Grub Bison Burger with Red Onion Relish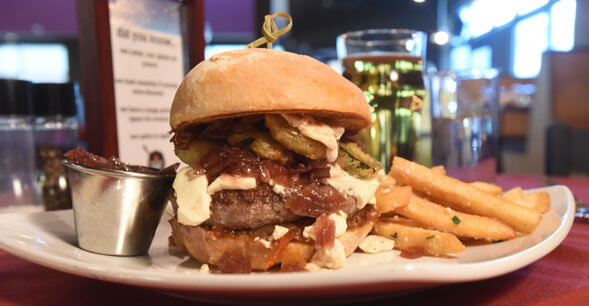 Yield: 4 servings
INGREDIENTS WEIGHTS MEASURES
Red Onion Relish (makes about 2 cups):
Red onions, small diced 2-1/4 pounds
Blended oil 1/3 cup
Shallot, minced 1 ounce
Garlic, minced 3/4 ounce
Brown sugar 1/2 pound
Red wine 1/2 cup
Sherry vinegar 1/4 cup
Sea Salt 1/2 tablespoon
Ground Black Pepper 1/4 teaspoon
Burger
Ground Bison Patty 4 each
Potato Bun 4 each
Butter as needed
Tempura Jalapeno Slices, cut on bias 12
Cream Cheese 4 ounces
Red Onion Relish 1/2 cup
Smoked Tomato Chutney, optional as desired
Directions
For Red Onion Relish: In medium sauce pot, combine onions, shallot, garlic and oil. Sauté over medium heat for 2 to 3 minutes. When onions start to soften, turn the heat down. Stir frequently until onions are completely softened. Add brown sugar, wine, vinegar, salt and pepper. Increase heat and bring to a boil. Reduce heat and simmer you have reached the desired spreadable consistency. Red Onion Relish may be stored in the refrigerator for up to two weeks.
For Burgers: Season and grill the bison patties to desired temperature then flatten out cream cheese to fit the patty and place on top to warm. Butter and toast the buns.
To serve, spread Red Onion Relish and Smoked Tomato Chutney on top and bottom portions of the toasted buns. Place burgers on bottom buns and top with Jalapeno slices and top buns.
Special notes
Recipe provided by Chef Justin Brown, executive chef and owner, Gourmet Grub Scratch Kitchen, Greeley, Colo.