Anejo Caramelized Onion with New York Strip Steak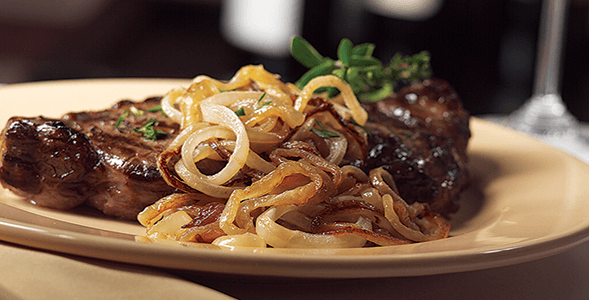 Description
Savory steak with onions at their finest!
Ingredients
8 ounces yellow onions, sliced
2 ounces or 1/4 cup clarified butter
Salt and pepper
1 ounce or 2 tablespoons Añejo tequila
16 ounce New York strip steak, prime grade
1/2 ounce or 1 tablespoon lightly salted butter, melted
A few pinches of Italian parsley
Directions
Cut onion slices into julienne strips to get 2 cups. To order, sauté julienne onions in skillet in hot clarified butter with salt and pepper to taste. When onions turn light golden, and the sugars in onion have caramelized, add tequila and cook, stirring to deglaze pan. Meanwhile, grill or broil steak, then brush with lightly salted butter and garnish with parsley. Serve with tequila onions.
Special notes
Yield: A single serving
Recipe and image provided by the National Onion Association.